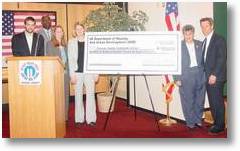 On Tuesday March 27, 2007, the Passaic Interagency Council on Homelessness (PCICH) held a press conference prior to the regular meeting of the Passaic County Board of Chosen Freeholders to announce the 2006 Continuum of Care Awards. This year's award of $1,669,164 will create a total of fourteen (14) new units of permanent, affordable and supportive housing for the Chronically Homeless. The three agencies that were funded for new projects were Eva's Village, St. Paul's Community Development Corporation and St. Joseph's Regional Medical Center. (Pictured above from left to right – Jeff Crum, NJCDC, Charles Featherson, Passaic County Department of Human Services, Heather Plan and Randi Moore, Monarch Housing Associates, Sr. Gloria Perez, Eva's Village and John Carluccio, City of Paterson, Department of Community Development).
In addition to the yearly Continuum of Care application, the Passaic County Department of Human Services along with various organizations and stakeholders from the community have been working to develop a Ten Year Plan to End Chronic Homelessness. The plan which is due to be released soon calls for the development of six hundred (600) units of permanent supportive housing for the Chronically Homeless over the next ten years.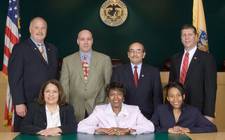 In addition at the same meeting, the Passaic County Board of Chosen Freeholders unanimously endorsed the Homeless Trust Fund. Freeholder Director Elease Evans, pictured in the center of the front row, understands the importance of the Homeless Trust Fund as one of the first seven steps of Passaic County's plan to end homelessness in ten years. Ms. Evans is a co-chair of the Passaic Interagency Council on Homelessness (PCICH) which is developing the ten year plan. (Pictured from left to right seated Sonia Rosado, Elease Evans, Tahesha Way, standing Terry Duffy, James Gallagher, Pat Lepore and Bruce James).
According to Sister Gloria Perez Executive Director of the Eva's Village , Passaic County's support combined with that of Hudson and Mercer will help to insure the passage of the required legislation by the State of New Jersey to allow Passaic County to establish its Homeless Trust Fund. She also noted "for over a year the Passaic County Interagency Council on Homelessness met consistently to end chronic homelessness in Passaic County. The money (accumulated from the homeless trust fund) is not to put someone in a shelter, but to change lives and make them more productive members of society."
Seventy-six (76) counties in 10 states have set up similar trust funds, with Washington State's funding model projects in counties statewide to reduce homelessness. There are at least 1,300 homeless people in Passaic County on any given day, with 349 chronically homeless. Counties across the country have achieved significant reductions in their homeless populations; a homeless trust fund will provide the revenue necessary to achieve similar success in New Jersey.
A copy of the resolution approved by the Board of Chosen Freeholders will be available later this week.
To find out how to sign on click here or send an email.
To see all who have signed up click here.