Monarch Receives Helping People Move Forward Award from NewBridge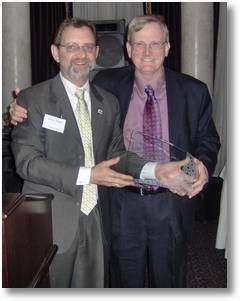 On Thursday March 29, 2007, NewBridge Services, Inc., awarded Monarch Housing Associates one of the three 2007 "Helping People Move Forward Award". The presentation was made at the 7th Annual Magic of NewBridge Gala.
In the photo Robert L. Parker, the Executive Director of NewBridge Services presents the award to Richard W. Brown, the Executive Director of Monarch Housing. Mr. Brown received the award on behalf of the Board of Trustees and staff of Monarch Housing. The other two recipients were John Franklin, CEO of the United Way of Morris County and Deborah Zastocki, President & CEO, of Chilton Memorial Hospital. To view other photos from the Gala click here.
NewBridge Services is a nonprofit community organization founded in 1963, provides innovative mental health, substance abuse, housing, children's and senior services and education programs. Whether dealing with stress, grief, or substance abuse or in need of parenting, relationship or caregiving advice, NewBridge offers counseling programs, educational forums and life-enriching services to help people bring balance to their lives.