Salem County Freeholders Endorse the Homeless Trust Fund!
On April 18, 2007, the Salem County Board of Chosen Freeholders unanimously endorsed the Homeless Trust Fund. They became the fourth county in New Jersey to endorse the Homeless Trust Fund.
In addition, the Freeholders adopted a resolution that will establish a task force to develop a ten year plan to end homelessness. The task force will be chaired by the United Way of Salem County.
The United Way of Salem County Board of Directors, expressed confidence that the United Way can bring people together to develop a plan that will end homelessness in Salem County.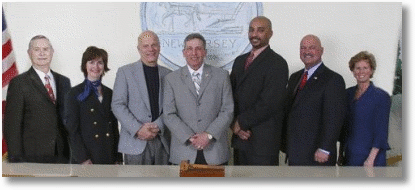 The Salem County Freeholders, left to right, Chuck Sullivan, Beth Timberman, Jeffrey J. Hogan, Freeholder Director Lee R. Ware, David Lindenmuth, Freeholder Deputy Director Bruce Bobbitt and Julie Acton.
Why is your organization or county not on the list? To find out how to sign on click here or send an email.
To read the list of Frequently Asked Questions click here.
To see all who have signed up click here.