Middlesex County Freeholders Endorse the Homeless Trust Fund!
On May 18, 2007, the Middlesex County Board of Chosen Freeholders unanimously endorsed the Homeless Trust Fund. They became the fifth county in New Jersey to endorse the Homeless Trust Fund.

Pictured on the left is Freeholder Blanquita B. Valenti who led the successful effort to secure the endorsement of the Middlesex County Board of Chosen Freeholders.
"The Middlesex County Board of Chosen Freeholders is proud to lend support to the Homeless Trust Fund initiative," Freeholder Valenti said. "The Trust Fund would establish a source of public funds dedicated to ending homelessness. It would also put decision making at the local level, meaning the people who know best where the need is would be deciding how the funds are distributed."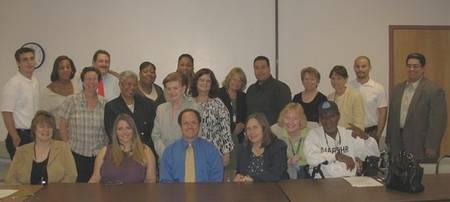 Freeholder Valenti and the CEAS Committee, pictured above, celebrate Middlesex County Being the 5th County to Endorse Establishing County Homeless Trust Funds. They are left to right (back row): John Cwynar, Pam Ponder, Lisanne Finston, Steve Nagel, Judy White, Cassandra Cross, Hon. Blanquita Valenti, Jackie Blake, Joanna Makara, Tracy Sette, Anthony Jimenez, Susan Baybutt, Vicki Larsen, Bob Gauthir, and Jorge Cruz; left to right (front row): Harriet Slonim, Amanda Warga, Mike Gildenberg, Cynthia Light, Bridget Kennedy, and George Berry.
According to Valenti, this endorsement will help build the momentum necessary to insure the passage of the required legislation by the State of New Jersey to allow Middlesex County to establish its Homeless Trust Fund. She also noted how essential the Homeless Trust Fund is to the development of the Ten Year Plan to End Homelessness in Middlesex County. The kickoff for the plan will be held on July 24, 2007 at Elijah's Promise on 18 Neilson Street in New Brunswick. The Kickoff will begin at 9:30. For more information on the kickoff contact Bridget Stillwell-Kennedy at 732-745-4228.
Why is your organization or county not on the list? To find out how to sign on click here or send an email.
To read the list of Frequently Asked Questions click here.
To see all who have signed up click here.