Robins' Nest Highlighted in new CSH study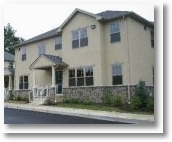 CSH has recently published New Homes, Brighter Futures: Profiles of Housing Programs for Young Adults. This CSH publication was prepared by CSH's New York Program and National Resource Center teams following the New Homes, Brighter Futures: Supportive Housing for Young Adults Conference held in April 2007. It presents information on promising supportive and service-enriched housing models for young adults who are homeless, at-risk of homelessness, or otherwise do not have a place to call home. Among the programs highlighted is the Life Link Homes developed by Robins' Nest. Click here to read the profile. To read the full report click here.
To view photos of the Life Link Homes under construction click here. To view a slide show click here.