Photos from Camden's Housing First Summit are online!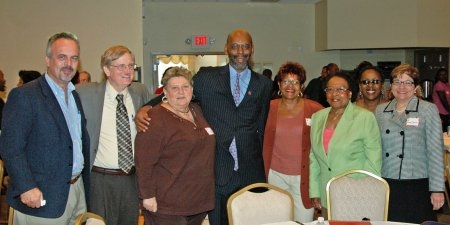 The Camden County Housing First Conference was held on October 9, 2007. Pictured from left to right are: Kevin Irwin of Yale University, Presenter, Richard Brown, Monarch Housing; Catherine DeCheser, President/CEO of CPAC; Samuel Miller, Regional Director of the US Interagency Council on Homelessness; Linda Johnson, Camden City Division of Planning and chair of the Homeless Network Planning Committee (HNPC), Gwendolyn Faison, Mayor of Camden City; Sheilah Greene, Senator Lautenberg's Office; Karen Talarico, Cathedral Kitchen and co-chair of the HNPC.
For more information on the event click here.
To view all of the photos form the event click here. To view a slide show click here.
The photos were taken by Anthony Lingo, Manager of Special Grant Projects, Camden City Municipal Government.