Morris County Second Annual Project Homeless Connect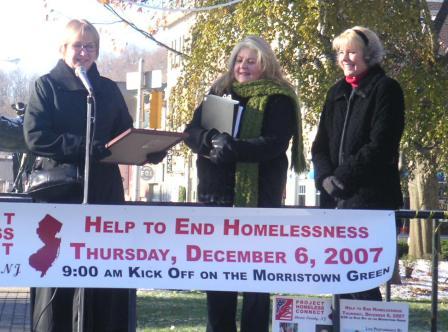 On Thursday, December 6, 2007 Morris County held its second annual Project Homeless Connect Event.  A small group individuals gathered at the Morristown Green at 9am to participate in the kick off to the Project Homeless Connect Event.  The crowd was serenaded by Kevin So, a singer/song-writer, on the cold winter morning as a warm-up to the impressive list of speakers who came to provide their support for Project Homeless Connect. 
Joann Bjornson, Executive Director of Interfaith Council for Homeless Families of Morris County, coordinated the County Project Homeless Connect event and welcomed all participants to the kick off.  She reminded the crowd that while they were all freezing for about half and hour or so through the kick off, there were people who slept out on the Morristown Green overnight.  She explained Project Homeless Connect is a way of bringing together service providers, community members and homeless individuals to connect them to much needed services and raise awareness about homelessness in Morris County. 
Margaret Nordstrom, Morris County Freeholder Director, thanked all the agencies for their efforts to end homelessness in Morris County and read a proclamation from the Board of Freeholders declaring December 6, 2007 Project Homeless Connect day. 
NJ State Senator-elect Joe Pennacchio emphasized the need to continue efforts to end homelessness and the need for those on all sides of the issue to take responsibility.  NJ State Senate President Richard Codey emphasized the need to continue strong collaboration between non-profits and government as they work to build more affordable housing and end homelessness in New Jersey. 
The United States Interagency Council on Homelessness regional Director, Sam Miller, congratulated Morris County on all its efforts to end homelessness through Project Homeless Connect events and their Ten Year Plan to end Homelessness.  He highlighted that New Jersey was the first state in the country to host Project Homeless Connect events in all 21 counties at 44 different sites in 2007 and would again have the same coordination for the 2007/2008 Project Homeless Connect season. 
At 10am the Project Homeless Connect event took place at St. Peter's Episcopal church, just a few blocks from the Morristown Green.  The line of individuals waiting to enter the site and receive services and give-aways was long despite the early, cold morning start.  Information about various services, give-aways, hot showers, hair-cuts, massage therapy and bus card were made available to individuals and families among other things at the site. 
To read more about the Morris County Project Homeless Connect event follow the links below:
To see pictures from the Morris County Project Homeless Connect event click here
To view the Morris County Project Homeless Connect slide show click here.