State announces plan to end homelessness by 2013
The announcement that the state has developed a plan to end homelessness in five years was received with excitement across the state. However, it was in Massachusetts and not in New Jersey.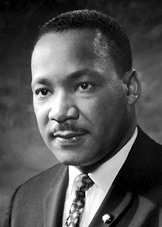 Today as we celebrate Dr. Martin Luther King's Birthday, it may be worthwhile to dream the impossible and wonder why New Jersey is not taking the lead on ending homelessness. Maybe Dr. King answered that question for us when he was asked if he would tone down his critique of the Vietnam War as that was impacting donations to his organization, the Southern Christian Leadership Conference.
Dr. King said: "I've not taken a sort of Gallup Poll of the majority opinion. A genuine leader is not a searcher for consensus but a molder of consensus.

On some positions, cowardice asks the question, is it expedient? And then expedience comes along and asks the question, is it politic? Vanity asks the question, is it popular? Conscience asks the question, is it right?"