Poverty stagnates in NJ while foreclosures soar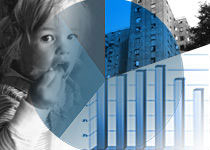 Legal Services of NJ released "Poverty Benchmarks 2008" on February 19th. The report continues to paint a bleak picture for NJ. According to the Star-Ledger "Between 2004 and 2006, 9 percent of the state's 8.5 million citizens lived below the federal definition of poverty, earning no more than $16,000 a year for a family of three. Children fared even worse, making up nearly 12 percent of the poverty class. The state also has the 13th-highest foreclosure rate in the nation." The full report details low cost or no cost policy actions that New Jersey could take to ameliorate this problem. When will we learn that it is better to solve a problem than ignore it. To read the Star-Ledger story click here.
To read the full report click here.
For more information on Legal Services of New Jersey's Poverty Research Institute click here.