Is living in a box a real home?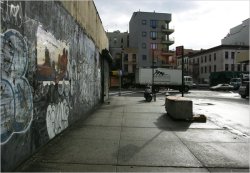 The New York Times published an article entitled "Home in Box Had Its Problems; Alternative Does, Too". The article describes the story of a man who lived in a box in the Bowery. "The box is as long and low as a frontier coffin, and answers soundly a knock of the knuckles. It has four small wheels and a heavy chain that snakes through a hole on the side and wraps around a "No Standing" sign. Hundreds of neighbors and Little Italy tourists pass it every day, just off a strip of busy lighting stores on the Bowery at Broome Street. They pass the box with barely a glance."
Is this the best America can do for the homeless? When we will understand that the right thing to do is to end homelessness?
The read the full article click here. To view a slide show on the Times web site click here.