Keys: Ending Family Homelessness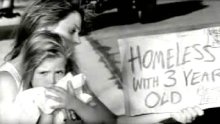 This video, from the National Alliance to End Homelessness, highlights how communities across the country are decreasing homelessness among families. The video was produced by the Bill and Melinda Gates Foundation.
Keys: Ending Family Homelessness focuses not only on ending family homelessness but also specific strategies used in three communities to end family homelessness. The strategies include prevention, rapid rehousing and targeted services.
We highly recommended that you watch this video.
<iframe width="400″ height="300″ src="http://www.youtube.com/embed/TZvYWmATOw4?rel=0″ frameborder="0″ allowfullscreen>
Please share this link as well as go the NAEH web site to find ways to educate, influence, and inspire people in your community. Some ideas on how to use the video:
Show the video to your staff, partners, and key funders.
Show the video at an annual meeting, board meeting, or conference.
Send copies to local elected officials; schedule a screening in their office.
For more ideas click here.