Salem County takes steps to end homelessness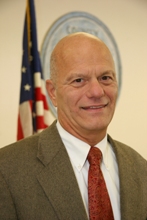 On February 20, 2008, the Salem County Board of Chosen freeholders adopted a draft plan to end homelessness in ten years.
"Homelessness is a serious problem that requires serious and thoughtful action to address it," said Freeholder Jeffrey J. Hogan, (pictured on the right) chair of the county Health and Social Services Committee and a member of the task force. "This plan will help guide all of our efforts to address this problem and make sure that we are not leaving anyone behind." To read all of Freeholder Hogan's comments click here.
"It's a sizable project, but there is a return. With people working, they are able to put back into the community," Rebecca Purchase of the United Way said. The United Way chaired the planning process "It is a lot cheaper in the long run than the Band-Aid solutions … Renter's assistance, food assistance, trips to the emergency room because they are sick. Those are Band-Aid solutions. Rather than a price tag, I would call this an investment."
To read the story in the Today's Sunbeam click here.