Senator Menendez to be keynote speaker for March 18th CoC Summit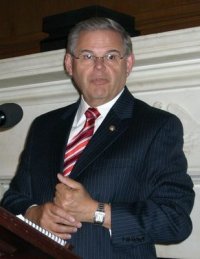 The Corporation for Supportive Housing (CSH) along with the Summit co-sponsors the US Department of Housing and Urban Development, New Jersey Housing Mortgage Finance Agency, Department of Community Affairs, Department of Human Services and Monarch Housing Associates are pleased to announce that the Keynote Speaker at the March 18th Continuum of Care Forum, "Transformation in 2008 and Beyond: Ten Year Planning" will be Senator Robert Menendez. Please be sure to join Senator Menendez and all of your colleagues from Continuums of Care across the state to discuss our plans for ending homelessness. If you have not already registered for the forum, a registration form is attached. For more information click here.
Pictured above is Senator Menendez at the 2007 Congressional Reception. For more information on the 2008 Congressional Reception and the Advocacy Network to End Homelessness click here.
[display_podcast]