Lautenberg and Menendez agree to sponsor National Housing Trust Fund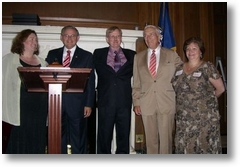 Both Senators Frank Lautenberg and Robert Menendez have agreed to co-sponsor the National Affordable Housing Trust Fund Act of 2007. This bill, S.2523, is similar to the one approved by the House of Representatives on October 10, 2007. The National Housing Trust Fund Campaign is working to establish a National Housing Trust Fund with ongoing, permanent, dedicated and sufficient sources of revenue to build, rehabilitate and preserve 1.5 million units of housing for the lowest income families over the next 10 years. The support of both of New Jersey's Senators is an important step toward the passage of this legislation. We commend them for their leadership on this crucial issue.
There support was a result of the advocacy of many groups throughout New Jersey. We commend them as well. This is an example of how working together we can make a difference!
To review the legislation click here. For more information on the National Housing Trust Fund Campaign click here.
In the photo above are left to right are Alison Recca-Ryan, Corporation for Supportive Housing, Senator Menendez, Richard W. Brown, Monarch Housing Associates, Senator Lautenberg, Joyce Campbell, Catholic Charities of the Diocese of Trenton at the 2007 Congressional Reception.For more information on the 2008 Congressional Reception and the Advocacy Network to End Homelessness click here .
[display_podcast]