Hudson's Homeless Plan is now online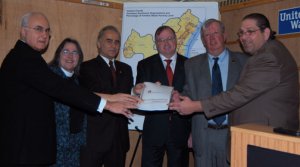 The Hudson Alliance to End Homelessness announced that their ten year plan to end homelessness had been completed and was ready to be implemented during the January 29, 2008, Project Homeless Connect event.
Keys to Ending Homelessness in Hudson County: Hudson County's Ten Year Plan to End Homelessness can be viewed online by clicking here. This is a comprehensive plan that can and will end homelessness in Hudson County by 2018! We commend Hudson County Executive Tom DeGise and Mayor Jeremiah Healy for their leadership and commitment to implement this plan.
Pictured on the right is Hudson County Executive Tom DeGise (center right) and Jersey City Mayor Jerry Healy (center) recently presented the Ten Year Plan to Eradicate Chronic Homelessness in Hudson County to Phillip Mangano, Executive Director of the U.S. Interagency Council on Homelessness (center left) during Project Homeless Connect Hudson County, a day-long outreach to the homeless providing food, clothing and information on services to the homeless held at Grace Church VanVorst. Also taking part in the presentation were Daniel Atelio (right), Most Reverend Thomas Donato, (left) Reverend Janet Broderick of Grace Church VanVorst (center left).
For more information contact Kristin Green.