Sen. Menendez's keynote address at CoC Summit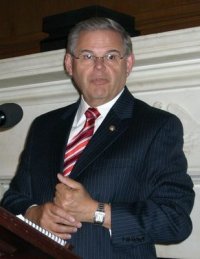 Senator Robert Menendez was the keynote speaker at the March 18, 2008, Continuum of Care Forum, "Transformation in 2008 and Beyond: Ten Year Planning". He was introduced by Mayor Douglas H. Palmer of the City of Trenton. Mayor Palmer is also the President of the US Conference of Mayors and a Charter Signatory to the America's Road Home Principles.
Senator Menendez congratulated the more than one hundred (100) attendees at the Summit for their efforts to "eliminate homelessness over the next ten years". He spoke about his support for the reauthorization of the McKinney-Vento program as well as for Homes for Heroes. He stressed that homelessness affects "every gender, every race and even all of us who have homes." He referred to home as the epicenter of the American Experience and that if "home is where the heart is then many Americans have been heartless as too many people in this country are homeless." To listen to the speech click here or use the link below.
[display_podcast]
Senator Menendez committed to attending the July 30, 2008, Congressional Reception. For more information on the 2008 Congressional Reception and the Advocacy Network to End Homelessness click here.
These are random photos from the event. Click on anyone to see it full size. Click here to view all of the photos. To view a slide show click here.
cpm_viewRandomMediaFromAlbum (3,4,73);
$objCpm->cpm_close;
?>
The CoC Summit was sponsored by the Corporation for Supportive Housing (CSH) along with the Summit co-sponsors the US Department of Housing and Urban Development, New Jersey Housing Mortgage Finance Agency, Department of Community Affairs, Department of Human Services and Monarch Housing Associates.