The Seashell provides supportive housing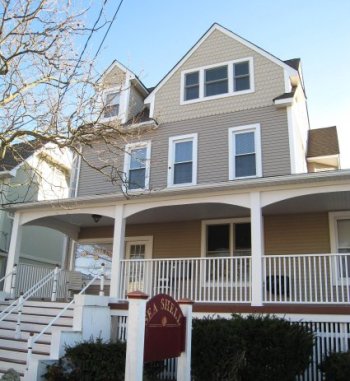 We received this from our friends at Triple C Housing and encourage our readers and friends to attend. Monarch Housing Associates provided support and technical assistance to this project during it's initial development.
A ribbon-cutting ceremony and open house will be held to celebrate the successful development of the "Seashell" Supportive Housing Project on Thursday, April 17, 2008, from 2:00 p.m. to 3:00 p.m. The project is located at 108 Forman Avenue in Point Pleasant Beach. For more information contact Alice Ward.
Tenants, elected officials, representatives and neighbors from the area and around the State are invited to celebrate the development of this project undertaken by Triple C Housing.
Based on the premise that true community integration starts with linking individuals of very low income and/or with special needs to mainstream resources and safe, high quality, affordable housing, Triple C Housing endeavors to achieve this end and assist individuals in living independently with dignity.
The Seashell, a turn of the century Victorian residence, has been substantially renovated from a rooming house to a less intensive use as a multi-family residence. The site provides project based subsidies coupled with onsite supportive services to nine (9) tenants residing in seven (7) units. The development of this project, as well as the achievements of our tenants deserves community recognition, to uplift the lives of others.
Formally established this spring, The Seashell Supportive Housing Project is the result of collaborative efforts and public support in partnership with New Jersey Housing and Mortgage Finance Agency, New Jersey Department of Community Affairs and New Jersey Department of Human Services/Division of Mental Health Services, the Corporation for Supportive Housing (CSH), and New Jersey Community Capital (CLF) . The architect on the project was Bruce Constant and the contractor was Meadowlands Electric.
Triple C offers affordable, permanent housing opportunities with flexible, person-centered support services that are strengths based, valuing the experiences and contributions of individuals served. The services are geared toward promoting wellness and self-sufficiency with support in personal pursuits ranging from education to employment to home ownership. Triple C is a well founded, grass-roots organization that has helped to make the dream of living self sufficiently with dignity become a reality for those we serve.
Our objectives are to empower individuals to improve their quality of life, promote self-sufficiency, and engage in meaningful, gainful relationships, careers, educational advancements and wellness activities while contributing to their neighborhoods and communities.