Section 811 reform bill introduced in Congress
On April 10, 2008, Representatives Christopher Murphy (D-CT) and Judy Biggert (R-IL) introduced critical permanent supportive housing legislation – the "Frank Melville Supportive Housing Investment Act of 2008" (HR 5772). This ground-breaking legislation proposes significant changes and improvements to the U.S. Department of Housing and Urban Development (HUD) Section 811 Supportive Housing for Persons with Disabilities program. The 811 program is the only federal housing program solely dedicated to assisting the lowest income people with serious and long-term disabilities to live independently in the community by providing integrated affordable and accessible rental housing linked with voluntary services and supports.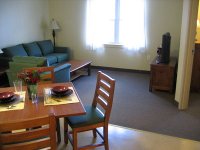 In New Jersey, the Section 811 program has created hundreds of supportive housing opportunities in all 21 counties. For example, the NJCDC Hawthorne Heights project is a permanent, affordable and supportive housing development sponsored by New Jersey Community Development Corporation. To view a slide show of this innovative Section 811 project click here.
Among the changes is that "within 30 days of award of the capital advance, the Secretary of HUD shall delegate review and processing of such projects to a State or local housing agency that is in geographic proximity to the property; has demonstrated experience in and capacity for underwriting multifamily housing loans that provide housing and supportive services; may or may not be providing low-income housing tax credits in combination with the capital advance under this section; and agrees to issue a firm commitment within 12 months of delegation."
It also includes a Project Rental Assistance Competitive Demonstration Program in "the Secretary shall carry out a demonstration program under this subsection to expand the supply of supportive housing for non-elderly adults with disabilities, under which the Secretary shall make funds available for project rental assistance." For the demonstration projects HUD would not provide a capital advance.
This important legislation honors the memory of the late Frank Melville – the first chair of the Melville Charitable Trust. Since 1993, the Trust has been a leader in promoting and advancing the creation of permanent supportive housing across the nation.
To read the full text of the legislation click here.
To read an update and announcement of the legislation from The Consortium for Citizens with Disabilities Housing Task Force (CCD Housing Task Force) and the Technical Assistance Collaborative (TAC) click here. As more details become available we will provide them.