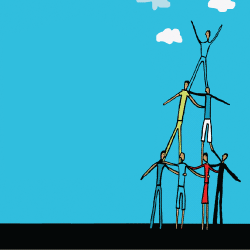 As strong believers in collaboration we were very pleased to find out about the Collaboration Prize created and funded by The Lodestar Foundation. An award of $250,000 for "collaborations that increase impact and eliminate duplication of efforts among nonprofits that would otherwise compete." The Lodestar Foundation "seeks to identify achievements in collaboration as models for inspiration and replication in the nonprofit world. It is in this spirit that The Collaboration Prize was created."
We are confident that there is one or more collaborative efforts in New Jersey that could qualify for the inaugural Collaboration Prize. The nomination process begins June 1, 2008 and closes at 5 p.m. EDT on July 21, 2008.
Do you know a nonprofit collaboration that is achieving greater community impact, greater efficiency with resources, or both? If you are familiar with the collaboration and not an employee of any organization involved, you can nominate that collaboration.
For more information click here.
Learn more about eligibility and selection criteria.
Find out what you need to do as a nominator.
Download nomination package (eligibility and selection criteria, selection timeline, nominator instructions, and nomination forms).
For Frequently Asked Questions (FAQ) click here.