The Stratford ribbon cutting provides hope for the homeless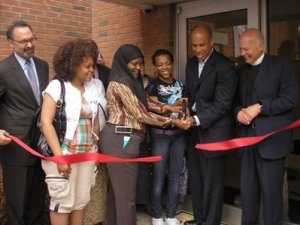 On June 6, 2008, The Stratford, which will provide permanent supportive housing for special needs and homeless families, held their Grand Opening. In the photo on the right, Mayor Cory Booker of Newark cut the ribbon along with Reverend J. Carr Holland, III and Mike Meyer, the Director of Housing and Real Estate for the City of Newark, and a family that will call The Stratford home. The project will have a total of nine units, three 3 bedroom units and six 2 bedroom units. The Stratford has received project based SRAP funds and the primary funding sources were Low Income Housing Tax Credits, City of Newark Home, HUD Continuum of Care Funding and Federal Home Loan funding. Episcopal Community Development was the developer, for The Apostles' House, which will "own" and operate the facility.
The comments from Mayor Booker on this historic project underscored the importance that his administration has placed on ending homelessness in Newark. To listen to his comments use the link below or click here.
[display_podcast]
These are some of twenty (20) photos from the grand opening.
cpm_viewRandomMediaFromAlbum (3,4,83);
$objCpm->cpm_close;
?>
You can click on any photo to see it full size or click here to view all of the photos. To save a photo right click on the photo.
To view a slide show click here.
All of the photographs were taken by Eucabeth Williams and Naemah Sarmad.