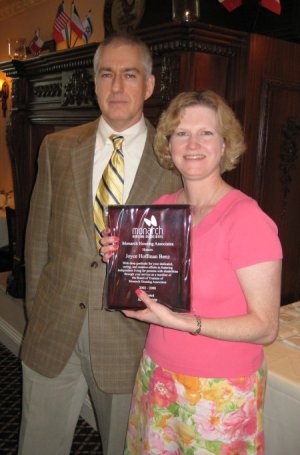 On June 12, 2009, Monarch Housing Associates held their 18th Annual Membership Meeting at the Luciano's Italian Restaurant in Rhaway. During the event a plaque in appreciation of six years of service was presented by Board Chair Harry Coe to Joyce Hoffman Benz. Ms. Benz is stepping down from the Board of Trustees this year.
Elections were held. The new officers for this year will be:
Harry Coe – Chairperson
Carol Kasabach – Vice-Chairperson
Gary Perillo – Secretary
Gordon Ur – Treasurer
In addition, John Glascock was elected to serve a second three year term.
The Board of Trustees also approved the 2007 Audit and reviewed organizational accomplishments.
For more information on Monarch's vision, mission and strategic plan click here.
These are some of seven (7) photos from the Annual Meeting.
cpm_viewRandomMediaFromAlbum (1,4,85);
$objCpm->cpm_close;
?>
You can click on any photo to see it full size or click here to view all of the photos. To save a photo right click on the photo.
To view a slide show click here.
All photos were taken by Asish Patel.