Well deserved recognition for leadership for the PIT and Project Homeless Connect!
Volunteers needed for 2009 PIT and PHC events!
On September 8, 2008, the Ely Mateo of the United Way of Greater Mercer County presented on behalf of the CEAS/HEAAH, CoC committee, Mercer Alliance to End Homelessness and the United Way a Leadership Award to Tarry Truitt. Mr. Mateo the Assistant Vice-President presented the award for the extraordinary work that Ms. Truitt for "In Recognition of providing Outstanding Leadership to the Point-in Time Count." He noted that she has been "an effective leader who is well respected in Mercer County. She expects only quality results for the task's she undertakes, provides her suggestions as necessary, takes no for an answer and does so with a smile." To read all of his comments click here.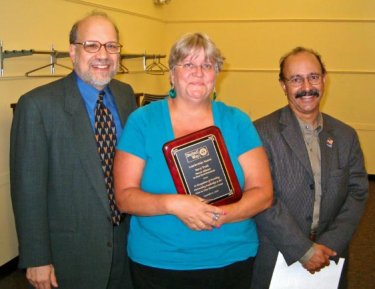 Ms. Truitt, of the Mercer Alliance to End Homelessness, stated that she currently seeking volunteers and contributions for the PIT and Project Homeless Connect on January 28, 2009 and the Project Homeless Connect on July 9, 2009. Please contact her at via eamail or 609-844-1008.