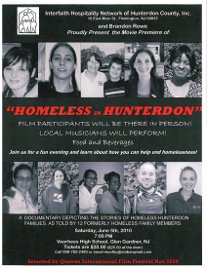 For the past year and a half, 5 high school students have worked with Interfaith Hospitality Network of Hunterdon County, Inc. to produce a film called "Homeless in Hunterdon." This is a documentary film depicting the stories of 12 formerly homeless residents of Hunterdon County. This is a story of struggle and hope and compassion. All 12 families received shelter and services from Interfaith, which is the only homeless shelter for families and single women in Hunterdon County. For more details click here.
This extraordinary film, directed by Voorhees student Brandon Rowe, will be premiered at the Voorhees High School in Glen Gardner on Saturday, June 5th, 2010 at 7 pm. This film was selected for the Queens International Film Festival in November, 2009. There will also be musical performances by local artists and students. All 12 film participants will be there for a question and answer session after the film. The Voorhees National Honor Society is hosting the event for the evening.
Tickets are $20.00 in advance and $25.00 on the day of the performance; doors open at 6:00 pm. All proceeds will go to the Interfaith Hospitality Network of Hunterdon County. To order tickets in advance, please contact IHN at 908-782-2490.