Save the Date!
September 30, 2010!
Paterson Park, Sal Orapallo and NewBridge
are new sponsors!
With only three months left until Monarch Housing Associates September 30, 2010, 20th Anniversary Celebration – Building Homes, Transforming Lives, we are pleased to announce three additional sponsors. This event will be held at the Hyatt Regency, New Brunswick and will begin with a 6 PM cocktail hour.
Last week Save the Date cards were mailed out. If you did not receive one please contact us.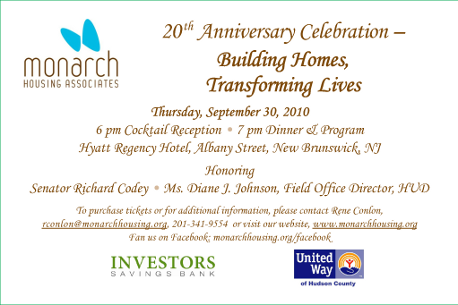 Tickets are now available for purchase online. Tickets are $85 a person or $150 for a couple. Click here to purchase tickets.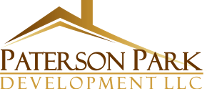 Paterson Park Development LLC, has agreed to be a Platinum Sponsor. They recently held the ground breaking for Paterson Park Apartments. This site consists of the new construction of eighteen (18) units of affordable, permanent and supportive rental housing for disabled and homeless veterans in Paterson and the Passaic County area. The development of this project will help address the critical need for affordable housing in Paterson and will advance the goals in the City of Paterson Fourth Ward Redevelopment Plan by creating mixed-use projects which incorporate housing and ground floor commercial/retail space. This project is the first phase of a larger mixed-use development that the developer plans to construct in the Fourth Ward. The project will be built to help the homeless and disabled households, with a priority for veterans to find much needed quality housing . The project offers a wide range of unit types to accommodate singles and families.

Sal Orapallo, General Contractor will underwrite the Cocktail Reception. Sal Orapallo, (DBA – Sal Orapallo General Construction) is a family owned and operated construction company that has been in business for over 25 years.  The company specializes on working with not for profit clients; dedicating time and resources to helping build strong and safe housing for special needs populations.  Projects range in size and scope, anywhere from small renovation under $5,000, to much larger developments that are over $3 million.  Mr. Orapallo believes in providing great service, and building relationships, along with homes.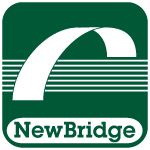 NewBridge Services, Inc. will be a Bronze Sponsor. NewBridge has worked with Monarch housing on numerous projects over the last twenty years. They are a nonprofit community organization founded in 1963, provides innovative mental health, substance abuse, housing, children's and senior services and education programs. Whether dealing with stress, grief, or substance abuse or in need of parenting, relationship or caregiving advice, NewBridge offers counseling programs, educational forums and life-enriching services to help people bring balance to their lives.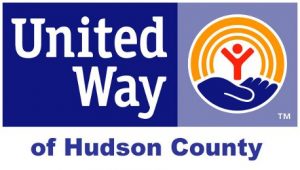 Monarch Housing is very pleased to that the United Way of Hudson County will be the premier sponsor of the 20th Anniversary Celebration. This strategic partnership will insure that Monarch Housing can continue to fulfill our vision that every person will have quality affordable, permanent housing that fosters freedom, independence and community integration. As the prime sponsor the United Way of Hudson County will provide accounting and record keeping for this event. Thus, please make all checks for tickets and sponsorships payable to United Way of Hudson County. All proceeds will benefit Monarch Housing Associates. All payments should be mailed to:
Monarch Housing Associates
29 Alden St. Suite 1B
Cranford, NJ 07016
Payment can also be made by credit card (VISA, MasterCard and AMEX) on our web site and the United Way of Hudson County's web site.
We are also pleased to have Investors Savings as our Diamond Sponsor for the 20th Anniversary Celebration. Investors Savings has been a supporter of Monarch's and Richard S. Spengler, the Executive Vice-President of Investors is one of our two Honorary Co-chairs of this event.
We are also have four additional Bronze sponsors for this event.
There is still time to purchase sponsorships, underwriting opportunities and ads for journal. Tickets can be purchased online by clicking here.
Click here for an order form or use these links:
For additional information please contact Rene Conlon, 201 341-9554 or by email.
We will be honoring these exceptional supporters of our mission – Senator Richard J. Codey and Ms. Diane J. Johnson, Field Office Director, U.S. Department of Housing and Urban Development (HUD).