Founded Monarch in 1990
With less than three months left until Monarch Housing Associates September 30, 2010, 20th Anniversary Celebration – Building Homes, Transforming Lives, we are pleased to announce that the Mental Health Association of New Jersey (MHANJ) will be a bronze sponsor of the event which will be held at the Hyatt Regency, New Brunswick and will begin with a 6 PM cocktail hour.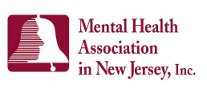 As the organization that founded Monarch Housing Associates in 1990, it is with great pride the Mental Health Association in New Jersey recognizes Monarch's 20 years of housing leadership in New Jersey. According to Robert Kley, the founding President of Monarch, "The MHANJ Board of Directors, filed the initial incorporation papers that created Monarch, securing its initial grant funding and providing extensive in kind support services during its start up phase." In addition, MHANJ's executive staff and Board leadership played key leadership roles during Monarch's early years, serving as President and Chairman of the Board. Monarch became an independent organization in 1996.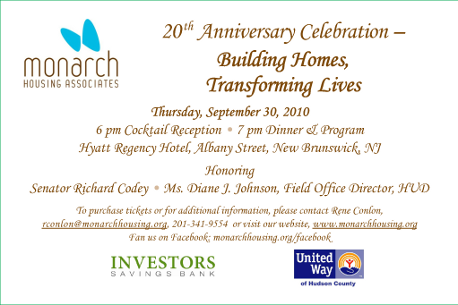 Tickets are now available for purchase online. Tickets are $85 a person or $150 for a couple. Click here to purchase tickets.