NewBridge, Monarch Perfect Together!
Parker speaks about Monarch's role with NewBridge
Gala adds tickets and extends deadline to September 27th
Robert L. Parker, the Executive Director of NewBridge, spoke with us recently about why he enjoys working with Monarch Housing. He spoke about how Monarch was instrumental to NewBridge's Family Housing Work Group in 1998-99 – which was the "kick off" of NewBridge's current housing development efforts.
With two weeks until Monarch Housing Associates September 30, 2010, 20th Anniversary Celebration – Building Homes, Transforming Lives, this is the third video we have shared.
Where can you view our YouTube videos?
Click here to view our YouTube video page.
You can also use the YouTube icon on the toolbar at the bottom of this page.

Click here to view our videos on Facebook.

Click here to view on Tumblr.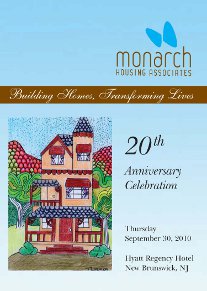 As a result of the overwhelmingly positive response to the 20th Anniversary Celebration Building Homes, Transforming Lives on Thursday, 6 PM, September 30, 2010, Hyatt Regency, New Brunswick, NJ, we have sold all of the tickets that were originally available for this event. To meet the demand, we have increased the number of tickets available and have extended the deadline until noon on Monday, September 27, 2010.
To insure that you will able to celebrate this event with you we encourage you to purchase tickets as soon a possible.
To view the invitation online click here.
Tickets are now available for purchase online with our secure server. Tickets are:
$85 a person;
$150 for a couple: and
$750 for a table of ten.
Click here to buy tickets online.
Click here to buy tickets by mail.
Click here to view all sponsors.