We are the solution!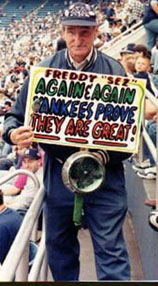 Last week Fred Schuman passed away. Most may not know him by that name but by his unofficial name; "Freddy Sez". Under that name, he was the unofficial mascot of the Yankees as well as the "greatest Yankee fan."
He had a regular route through the Stadium where he would ask fans to bang his frying pan to encourage the Yankees to win. My family and I have banged the pan many times with Freddy at the Stadium.
This is not about the Yankees or even about baseball.
It is about Freddy who at one point in his life was homeless.
He was also a relative of my wife's family.
Freddy was my late mother-in-law's cousin. One of his frying pans belonged to my mother-in-law.
As a member of my family, he was a poignant reminder that we are the homeless.
They are our family.
They are our sons and daughters, parents, cousins, nephews and nieces.
Any of us could become homeless.
But if we are the homeless, we are also the solution to ending homelessness.
We need to end homelessness not only because it is the right thing to do but also because we never know what those who may be homeless will contribute to society if they have a place to call home.
Fred Schuman was a classic example of someone who overcame homelessness and contributed value to all of our lives.
He had failed at everything he had tried – business, relationships, work – until twenty-two years ago when he became the Yankees' number one fan.
The cost of providing him a home was nothing compared to the joy he provided all of us over the last twenty-two years.
To end homelessness we need to begin to think of homelessness as just part of one's life not the event that defines our lives.
Freddy never would have wanted to be known as the greatest homeless Yankee fan.
We should be judged by the entirety of our lives not by one part.
We can and must end homelessness!