Myths About the Homeless in NJ
Myths About Individuals and Families
who are Homeless in New Jersey
There are many myths and stereotypes about the individuals and families experiencing homelessness in New Jersey. Today we publish the first of some of the common myths about the homeless population, along with the facts that challenge them.
Myth 1: People who are homeless in New Jersey
take advantage of the system.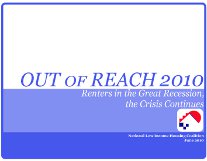 In actuality, a relatively small percentage of people experiencing homelessness receive government assistance. In 2010, 18% of the homeless population received General Public Assistance, 10% received Social Security Insurance (SSI), and 6% received Social Security Disability Insurance (SSDI) or Temporary Assistance to Needy Families (TANF.)
And for those receiving government assistance, those payments alone are not enough to pay rent and other expenses. For example, according to the National Low Income Housing Coalition's (NLIHC) 2010 Out of Reach report, a person in New Jersey on SSI receives $705/month and had to spend an average of 154% of their monthly income just to rent a one-bedroom apartment.
The fair market rent for a one bedroom apartment in New Jersey is $1,087/month and is $1,264/month for a two bedroom apartment. Income from SSI does not even come close to helping an individual rent a one bedroom apartment let alone leaving money for food, utilities, transportation, etc.
Click here to read the full NLIHC 2010 Out of Reach report.
Click here to view the data on NJ.
To read our posts on all of the myths about homelessness click here.
Do you have a homeless myth that you would like for us to analyze? If yes, click here to send an email.
We encourage you to share your comments about the homeless myths on this page or on our Facebook page.