Will they come if you build housing?
Homeless Myth: True or False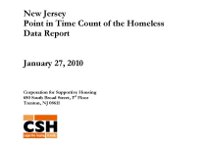 Myth 2: Building affordable and supportive housing brings people who are homeless to New Jersey. Respondents to the New Jersey 2010 Point in Time Count of the homeless reported that 85% of those surveyed resided in our state before becoming homeless. Click here to read the full report.
The reasons some individuals who are homeless move to new areas include that they are searching for work, have family in the area, were originally from the area or have other reasons not related to access to housing.
And building affordable housing provides an economic stimulus to local communities and states. The development of supportive housing creates new jobs, revitalizes communities and generates new tax income. According to the Corporation for Supportive Housing, an analysis of the Connecticut Supportive Housing Demonstration Program found that supportive housing improved neighborhood safety and beautification, increasing or stabilizing property values in most communities.
Click here  to view the full 2002 Connecticut Supportive Housing Demonstration Program Evaluation Report.
To read our posts on all of the myths about homelessness click here.
Do you have a homeless myth that you would like for us to analyze? If yes, click here to send an email.
We encourage you to share your comments about the homeless myths on this page or on our Facebook page.