House Approves Ryan Budget
NJ votes 6-7 in favor
$1.6 trillion cuts in discretionary programs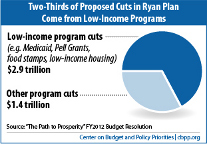 On Friday April 15, 2011, the House of Representatives voted 235-193 to approve The Path to Prosperity, Congressman Paul Ryan's FY2012 budget. It claims to reduce spending by an estimated $5.8 trillion over the next ten years including $1.6 trillion cuts in discretionary programs. No Democrats supported the legislation.
In addition, the budget proposal would change Medicaid and Medicare while lowering taxes on individuals and businesses.
According to an analysis by the Center Budget and Policy Priorities:
House Budget Committee Chairman Paul Ryan's budget plan would get about two-thirds of its more than $4 trillion in budget cuts over 10 years from programs that serve people of limited means, which violates basic principles of fairness and stands a core principle of President Obama's fiscal commission on its head.
In The New York Times, Speaker Boehner was quoted as saying: "I think it's important for our members to go home and talk about the crisis that we face. These are important programs for tens of millions of Americans. And transforming them so they'll be around for our kids and grandkids is as important as anything that we can do around here."
With Congress working from their district offices until May 2nd, this is a good time to meet with them and let them know your opinion not only about the 2011 and 2012 budgets but also the pending vote on the debt ceiling. There have already been calls from Republicans and Democrats to use the vote on raising the debt ceiling to reduce spending.  According to Politico:
"One certainly is spending caps, both on the discretionary side and the mandatory side," House Majority Leader Eric Cantor (R-Va.) told reporters Tuesday. "All these are what we need to consider and come up with a way that we can be focused and be able to stand behind our promise that we are not going to let the spending out of control again."
The vote on the debt ceiling should occur between May 16th and July 8.
This is a list of phone contact information for the delegation's district offices. Click here for more details or click on their name to visit their web sites.
This is how the members of the NJ Delegation voted:
| | | |
| --- | --- | --- |
| Nay | NJ-1 | Andrews, Robert [D] |
| Yea | NJ-2 | LoBiondo, Frank [R] |
| Yea | NJ-3 | Runyan, Jon [R] |
| Yea | NJ-4 | Smith, Christopher [R] |
| Yea | NJ-5 | Garrett, Scott [R] |
| Nay | NJ-6 | Pallone, Frank [D] |
| Yea | NJ-7 | Lance, Leonard [R] |
| Nay | NJ-8 | Pascrell, William [D] |
| Nay | NJ-9 | Rothman, Steven [D] |
| Nay | NJ-10 | Payne, Donald [D] |
| Yea | NJ-11 | Frelinghuysen, Rodney [R] |
| Nay | NJ-12 | Holt, Rush [D] |
| Nay | NJ-13 | Sires, Albio [D] |