No one should be "stuck being homeless"
Homeless Myth: True or False
Myth 7: Individuals and Families who are Homeless Remain "Stuck in Homelessness."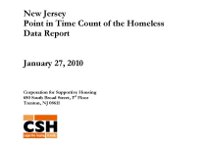 Homelessness is a cycle that can be broken.
The 2010 New Jersey Point in Time Count of the homeless found that only 33% of the individuals and families had been homeless for more than one year. The same report showed that the percentage of homeless that reported having several episodes of homelessness over time seems to be on the decline. In 2010, 26% reported being homeless at least four times in the last three years. In 2009 the number of respondents equaled 27% of the homeless while it was 33% in 2008 and 31% in 2007.
Long-term Homelessness in NJ

2010

26%

2009

27%

2008

33%

2007

31%
According to the U.S. Dept. of
Housing and Urban Development
(HUD), an individual is considered to be chronically homeless if she or he is: an individual with a disabling condition; and Homeless in excess of one year or; has experienced at least four separate and distinct periods of homelessness over the past three years.
In 2010, a total of 878 adults in New Jersey met the HUD definition of chronically homeless. The chronically homeless made up about 10% of the total homeless population.
To read our posts on all of the myths about homelessness click here.
Do you have a homeless myth that you would like for us to analyze? If yes, click here to send an email.
We encourage you to share your comments about the homeless myths on this page or on our Facebook page.