Join the Network for Lobby Day 2011
Take our Policy Priorities to the State House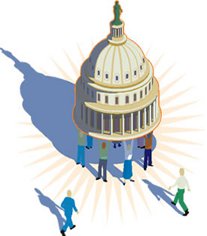 Educate your representatives about investing in our economy by preserving the housing budget, including rental assistance, and making sure we have a housing policy that moves NJ forward.
Tour the State House and get an insider's view of the legislative process from where it all happens!
Hone your advocacy skills and learn tricks of the trade for communicating with decision-makers!
Date: Thursday, May 19, 2011
Time: 9:00 am – 3:00 pm
Location: State House Annex, Room TBA
Participants will meet with their legislative representatives to educate them about housing and community development issues and build support for our policy priorities. Groups may also attend legislative hearings.
Remember to bring proper ID to enter the State House and please allow sufficient time to go through the new State House security process.
This event is free, but REGISTRATION is required. Sign up today!
To sign up or get more information, please contact Ashley Hockenbury, or 609/393-3752 x10; or sign up on line .
Breakfast and lunch will be served.
Click here for a registration form.
Click here for Petition Cards.
The term "lobbying" originated in New Jersey – since our part-time legislators do not have staffed offices in the State House, much of the communication between advocates and representatives starts in "the lobby."