Oliva Provides Update on 2011 CoC
Information on 2011 Competition, ESG and HEARTH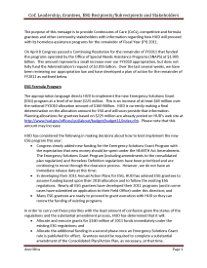 Ann Oliva, Director of HUD's Office of Special Needs Assistance Programs, sent an email on May 16, 2011, "to provide Continuums of Care (CoCs), competitive and formula grantees and other community stakeholders with information regarding how HUD will proceed with its homeless assistance programs for the remainder of Fiscal Year (FY) 2011."
Click here or on the icon to read the full comments.
In regards to the 2011 Continuum of Care Competition, Ms. Oliva said:
HUD is confident that we have been appropriated enough funding to cover renewal programs even with the new ESG program at the higher level.

The 2011 Continuum of Care competition will be handled as it has been in the past, including Exhibit 1 and Exhibit 2 for new and renewal Supportive Housing (SHP), Shelter Plus Care (S+C) and SRO Section 8 Moderate Rehabilitation (SRO) programs.

Funding for new projects will very likely be less than what we have awarded in the past, making the process for getting new projects even more competitive.
HUD will continue to announce the results of the CoC competition in two phases, with renewal awards being prioritized and announced within 60 days of the close of the competition.

SNAPS intends to launch the Registration portion of the CoC competition in the next 30-45 days, and the application portion of the competition soon after Registration closes. This schedule will allow for renewal awards to be made before projects begin to expire in January 2012.
In regrds to ESG:
In order to carry out these priorities with the least amount of confusion given the status of the regulations and the substantial amendment process, HUD has determined that it will:

Allocate and execute grants for $160 million of 2011 funds immediately under the existing ESG regulations; and

Allocate the additional funding in a second phase once an Emergency Solutions Grant rule is published for effect

. Grantees would be required to complete a substantial amendment of the Consolidated Plan/Action Plan, as necessary, at that time.
In regards to HEARTH Implementation:
 Current regulations remain in place until we have new regulations released for effect. We will clearly state when each of the new regulations takes effect, and will provide technical assistance and training resources to get grantees up to speed on the new requirements. This includes the definition of homelessness.