Arc of Atlantic opens Galloway Housing
Section 811 supportive housing opens on June 29th
Photos of the ribbon cutting are online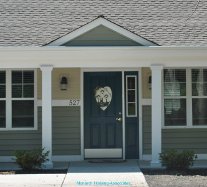 On June 29, 2011, The Arc of Atlantic County, Inc., held an Open House event for their Galloway Housing Project located in Galloway Township, Atlantic County. This supportive housing project consists of the construction of two new homes that included four apartments in each home.
Each home also has common space for the tenants to mingle and a staff office. The design of each building is fully handicapped accessible allowing non-ambulatory residents to move within the homes and between the two homes with ease.
Each apartment includes a bedroom, bathroom, and a living room area with a kitchenette. The community area within each home includes a living room, large kitchen facility, laundry area and computer area for the residents. This design is a new concept because the homes ranch style homes in appearance but apartments, common space and a staff office are within each home. Guests attending the Open House event were delighted with this design and marveled at the design; they liked that each resident had their own home and that they could also mingle if they choose. The exterior of each of the homes includes a front covered porch, rear patio and shaded areas for sitting if desired.
Funding sources included:
The development team included:
Sal Orapallo, General Contractor
Monarch Housing served as the development and financing consultant.

Click here to view and comment on the photos on our Facebook page.
These are photos from the event.