Services for Veteran Families Grants Announced
Catholic Charities Dioceses of Camden and
Community Hope receive funding!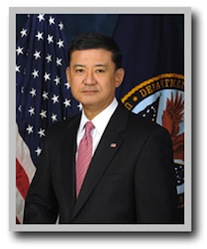 The Secretary of the Department of Veterans Affairs Eric K. Shinseki announced the award of homeless prevention grants that will serve Veteran families that are at-risk or experiencing homelessness as part of the new Supportive Services for Veteran Families (SSVF) program. This initial $60 million award will serve Veteran families at 85 non-profit community agencies in 40 states and the District of Columbia under VA's new homeless prevention initiative and will reach approximately 22,000 Veteran families.
The only two programs funded in New Jersey were:
Community Hope, Inc.
As we have more details on the specifics of their programs we will share that with our readers.
The SSVF program, a critical element of VA's plan to prevent and end homelessness among Veterans, will promote housing stability among homeless and at-risk Veterans and their families. Under the SSVF program, VA awards grants to private non-profit organizations and consumer cooperatives that can provide a range of supportive services to eligible very low-income Veteran families.
"This new innovative program from the Department of Veterans Affairs is essential to the Obama administration's efforts to prevent and end Veterans homelessness by 2015," said Anthony Love, Deputy Director of the United States Interagency Council on Homelessness. "Building on the lessons of the Recovery Act's success with the Homeless Prevention and Rapid Rehousing program (HPRP), this new funding is critical for communities across the nation."
Click here for a list of award recipients.
Click here for more details about the Supportive Services for Veteran Families program.