NJ Rate Highest Level Since 1993-94
Census Data Shows Hidden Poverty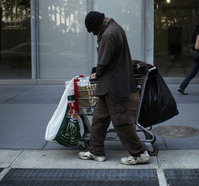 Yesterday, the U.S. Census Bureau released its annual report, "Income, Poverty, and Health Insurance Coverage in the United States: 2010." In New Jersey, the poverty rate reached 10% which is the highest level since 1993-1994.
N. J Today quoted Melville D. Miller, president of Legal Services of New Jersey (LSNJ), "It is clear from today's poverty data that the recession has not ended for many, and it continues to have a devastating effect for many children, families and individual adults."
Additional statewide date for New Jersey included in the report:
Even after the recession ended, 32,266 of our neighbors in fell into poverty;
Poverty in New Jersey has been increasing since 2004-2005;
The number of those with incomes below half the poverty level increased from 4.4% in 2009-2010 to 5% in 2009-2010. This represents an increase of residents in true poverty with incomes below the real cost of living a 24.3% to 24.8% increase;
The percentage of the unemployed remained above 9% for the past 27 months – the July 2011 rate was 9.5%;
In 2009-2010, 278,923 low-income people, 32.1%, of the population group – were uninsured, compared to 15.6% of the general population.
LINKS

Please click here to read the full report

For additional coverage of this news story, visit the National Alliance to End Homelessness blog.

National Public Radio's Marketplace
While government programs like unemployment benefits prevented yesterday's numbers from being even worse, said Timothy Smeeding, a poverty expert from the University of Wisconsin, on NPR's Marketplace, "The real solution to poverty and dwindling incomes is still jobs."
Nationally, the real median household income declined 2.3 % to $49,445, the official poverty rate increased for the third consecutive year to 15.1 %, and the rate of health insurance coverage stayed flat, with 16.3 % of the population lacking coverage. federal poverty threshold was $22,113 for a two-adult, two-child household in 2010.
And one national trend in the report that stands out is the hidden poverty in our country. This means that more households are "doubled up", putting them at risk for homelessness. This population includes adults in their 20s and 30s living with their parents, 45% of whom would be living in poverty if they were not living with their parents. And if they are to become independent and join the middle class, these young people need an education and jobs that pay a decent wage.