Blank-Fest NJ VI Sunday December 11th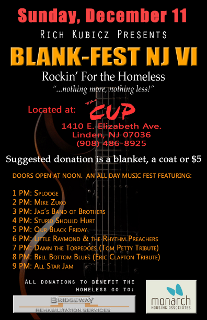 Blank-Fest NJ VI, presented by Rich Kubicz, will be held at The Cup in Linden on Sunday December 11th from Noon until 10PM.
Admission is a suggested donation of a coat, blanket or $5.
This year's event will be presented by Rich Kubicz and Monarch Housing and Bridgeway will be the beneficiaries. Both organizations will donate the coats and blankets to the homeless.
The following artists will be performing to help end homelessness.
1:PM: Splooge
2:PM: Mike Zuko
3:PM: Jags Band of Brothers
4:PM: Stupid Should Hurt
5:PM: Our Black Friday
6:PM: Little Raymond and the Rhythm Preachers
7:PM: Damn the Torpedoes (Tom Petty Tribute)
8:PM: Bell Bottom Blues (Eric Clapton Tribute)
9:PM: All Star Jam
The Cup is located at:
1410 E. Elizabeth Avenue
Linden, NJ 07306
908-486-8925
Click here for a full-sized poster.
Click here for an 8.5 by 14 flyer.
Click here for an 8.5 by 11 flyer.