Judge denies request to disband the camp
Huffington Post and CBS report on Tent City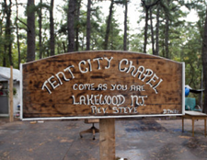 On Friday January 6, 2012, Judge Joseph Foster denied Lakewood's request to disband the camp. "There is a governmental responsibility here to care for the poor at some level," he said. He ordered mediation to decide how that responsibility might be met.
In a January 5, 2012 article, Huffington Post reporter, Jaweed Kaleem, profiled the homeless encampment in Lakewood, New Jersey that is now home to 80 people experiencing homelessness.
CBS Evening News also reported on Tent City and the court case.
The tent city, which has existed there for 5 years, offers primitive living conditions to its residents, many of whom were once very gainfully employed but now are struggling to survive.
The township of Lakewood would like the tent city's "tenants" to move elsewhere. In court filed documents, the township states that the homeless residents are living illegally on public land.
In response, the Reverend Steve Brigham, who leads and lives in the encampment, has responded by suing the township and Ocean County, saying "neither provide any other adequate shelter for the homeless."
Superior Court Judge Joseph Foster ruled that the tent city can stay where it is temporarily. But he is asking that Lakewood Township representatives and Brigham solve the argument between the two parties about the site.
"When you take someone else's property, you can't expect the property owner isn't going to say at some point, 'enough,'" Foster said at the hearing, according to the Associated Press.
Click here to read the Huffington Post article.