Friends and Supporters gather for grand opening
Photos of the project are online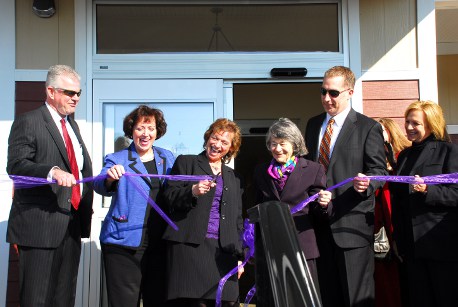 On January 24, 2012, a warm and sunny day, Vantage Health Systems was joined by friends and supporters for the Ribbon Cutting Ceremony of the Van Sciver Supportive Housing Residence. With over seven years devoted to the project, Victoria Sidrow, CEO of Vantage, discribed the project as a labor of love!
The project entailed new construction of sixteen (16) modualr efficiency apartments on Van Sciver Street, Closter, NJ. The target population of the project is low income individuals with mental illness, including the chronically homeless. The project will be a two story building that will include ample on-site parking, landscaped grounds, and offices for service and property staff. The development will include elevator service, common areas, and common laundry facilities. Every unit will have a private kitchen and bathroom. The development will offer efficiency units equipped with such market rate amenities as modern appliances, hard wood flooring, window blinds, ample closet space, security and emergency call features, and hardwiring for cable TV and internet access. The building will also be Energystar and Silver LEED Certified.
Development team members include:
Vantage Health System, Developer, Manager, and Service Provider,
Monarch Housing Associates, Housing Consultant,
The Corporation for Supportive Housing, predevelopment financing and technical assistance,
Kitchen and Associates, Architects,
Integrity Build, LLC., Contractor, and
Haven Homes, Modular Manufacturer.
The capital funding sources for the project include:
Rental Subsidies have been provided for 8 units through the New Jersey SRAP program. Rental subsidies for an additional 8 units will be provided through the Bergen County Continuum of Care Shelter + Care program.
Click here to view and comment on the photos on our Facebook page.
This is the slideshow from the ribbon cutting.