FHLBNY awards $11.3 million to 17 NJ projects
769 units receive AHP subsidy in NJ
2012A Applications due on April 6th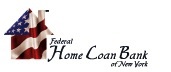 The Federal Home Loan Bank of New York (FHLBNY) approved seventeen (17) New Jersey Affordable Housing Program (AHP) projects totaling $11,366,367 for a total of seven hundred and sixty-nine (769) units of affordable and supportive housing in the 2011A round.
To view the list of NJ projects click here.

To view all of the projects click here.
The New Jersey awards were part of a larger allocation of fifty-seven projects (57) totaling $33,662,195 for at total of two thousand eight hundred thirty-seven (2,837) units.
Four projects including two in New Jersey are on the alternative list.
New Jersey's funding comprised twenty-seven (27%) percent of all of the units and thirty-four (34%) of the total funding.
The average per unit funding for all of the awards was $11,865.42.
The average per unit funding for the awards for New Jersey projects was $14,780.71.
The FHLBNY in their announcement stated:
If an application you submitted does not appear on the list and you wish to receive advice about how to improve an application for resubmission in our next round, feel free to respond to this e-mail to request a copy of your project's scoring worksheet.  In your request, please include the name of the project, the name of the project sponsor and the name of the member that submitted the application on the sponsor's behalf.  A member of our staff will reply with a copy of the worksheet and application advice by February 17, 2012.  We would appreciate it if you would communicate with this e-mail to rather than calling or e-mailing members of the staff directly so that we can allocate our resources efficiently in handling your request.

Please note that the 2012A application package will be posted on or about February 3, 2012 on the Bank's website.   Applications that will be submitted in an electronic format must be delivered to the FHLB-NY by 5:00 PM on Friday, April 6, 2012 while paper applications must be physically delivered to the FHLB-NY by 5:00 PM on Tuesday, April 3, 2012. Note that the scoring parameters in the 2012 round are the same as the 2011 round, but there will be some changes in the required information.
Congratulations to the recipients of these important funds!