Supportive housing ends elderly homelessness
CSH and Hearth, Inc. Share Best Practices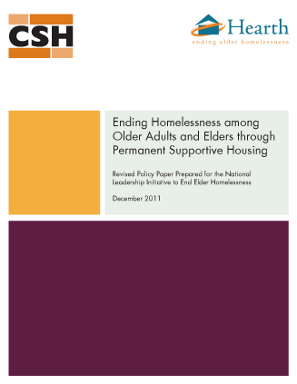 Permanent Supportive Housing provides the stability that older adults and the elderly experiencing homelessness need to stay healthy. Typically, without a permanent home, this population experiences a mortality rate three to four times that of the general population.
The Corporation for Supportive Housing (CSH) and Hearth, Inc. have released a policy paper – Ending Homelessness among Older Adults and Elders through Permanent Supportive Housing – that discusses strategies for the following:
Target affordable housing for older adult and elderly populations by:
Ensuring support is there to assist in navigation of the programs and services.
Developing comprehensive services plans to emphasize coordination and accessibility.
Tailoring those plans to the specialized needs of homeless older adults and elderly (chronic physical illness, mental illness).
Creating clear communication strategies that alleviate fears of being put in a home and losing independence.
Promote the availability of permanent supportive housing to the older adult and elderly populations by:
Creating more housing and renovate current stock since there is shortage of supportive housing for all groups and every unit of supportive housing for the elderly has 10 applicants.
Revising federal and state policy to increase funding, make programmatic changes and foster interagency collaboration.
Click here to read the full report.