Ribbon Cutting for Ridgewood Avenue Supportive Housing
Project Live holds open house for
21 homes for the homeless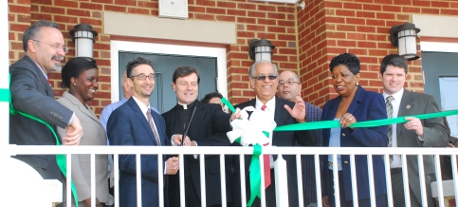 Project Live, Inc. hosted a Ribbon Cutting ceremony for their new project in Newark, New Jersey on Tuesday March 13, 2012. The ceremony was attended by neighbors, City, County and State officials, Project Live Board Members, Staff and Residents. Newark representatives included Mayor Cory Booker, and Michael Meyer, Director of Housing and Real Estate.
Mr. Meyer discussed how so many of the States residents are "Priced Out" of the rental housing market. Essex County representative George Serio spoke about "Social Investment" in our community.
Yirgu Wolde and Pamela DeLosSantos of the New Jersey Housing and Mortgage Finance Agency also attended the ceremony.
This project was funded by the City of Newark, Essex County Division of Housing and Community Development, The New Jersey Division of Mental Health Services, US Department of Housing and Urban Development, The Housing Authority of the City of Newark, the Corporation of Supportive Housing and HMFA's Special Needs Housing Trust Fund (SNHTF).
This project is another example of the importance of the Special Needs Housing Trust Fund and why it needs to be renewed. Click here for more information on the campaign to Renew NJ's Special Needs Housing Trust Fund.
The project consists of new construction of a three story apartment building that will contain twenty one (21) apartments for homeless individuals with a disability. The building is fully handicapped accessible and blends into the existing neighborhood. Each resident will have their own bedroom, living room, kitchen and bathroom. They will also share some interior and exterior common space, as well as on site laundry facilities.
Development team members include:
These is a slide show from the Ribbon Cutting Ceremony. To view individual photos click here.
To view the photos on Facebook click here.