Promise House Ground Breaking
Triple C Housing Fulfills a promise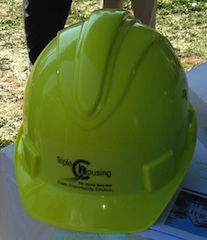 Triple C Housing hosted a Ground Breaking ceremony for their new project in New Brunswick, New Jersey on Monday April 16, 2012. The ceremony was attended by neighbors, City, County and State officials as well as Triple C Board Members and staff. The Promise House will provide permanent supportive housing for ten (10) persons at risk of experiencing homelessness who have special needs.
This project was funded by:
The housing will be a multifamily building with seven (7) studio units and three (3) one bedroom units as well as a unit for a site superintendent. Promise House will have a community room, space for services and property management, a laundry room and patio. The site is within close proximity of downtown New Brunswick.
Development team members include:
These are photos taken by Eucabeth Williams from the Ground Breaking. Click here to view them on Facebook.