Congressman Andrews Tours Supportive Housing in Camden
Makes Commitment to End Homelessness!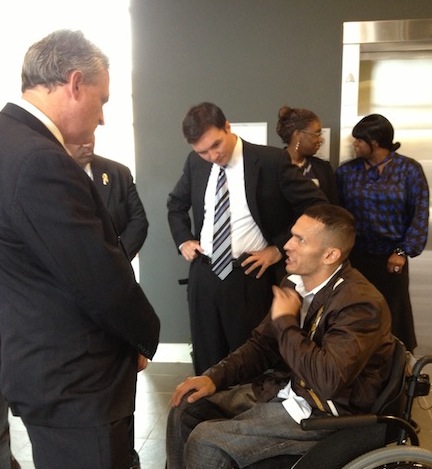 On October 23, 2012, Congressman Rob Andrews (NJ-D-1) made a site visit to The Meadows at Pyne Poynt in Camden. The Camden City/County Continuum of Care, known locally as the Homeless Network Planning Committee (HNPC), hosted the Congressman for a visit, brief tour and question and answer period. Almost 70 people attended the hour long event.
In his remarks and responses to questions from the audience, Congressman Andrews spoke of the need to work together, help people, and preserve tax credits. He defended the need for spending instead of cuts.
Andrews had the opportunity to meet tenant Sam Gonzalez. Gonzalez, formerly homeless, faced being turned away from shelters. But he moved into his new apartment six months ago and now has a home, is back in school and has hope. Andrews spoke of the need to convince his colleagues that "Sam can be helped."
Andrews spoke of the need of a full continuum of care that includes emergency shelter, transitional housing and permanent homelessness to end homelessness. He emphasized that these programs are cost effective and work! He committed to ending homelessness.
Among those who spoke during the question and answer period was Gino Lewis, director of the Camden County Community Development Program and the chairperson of HNPC. He introduced the speakers and talked about Camden County's homeless trust funds and the need to preserve federal homeless funds.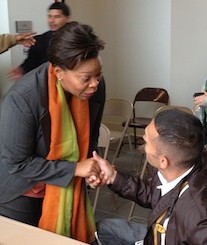 Lewis also raised the issue of sequestration and the cuts that HUD faces. Congressman Andrews said that he did not believe the sequestration would happen.
Dana Redd, Mayor of the city of Camden, who is a member of the Interagency Council on Homelessness spoke of the need to develop a ten-year plan based on the success around working to end homelessness in Camden and South Jersey.
Other speakers included Catherine DeCheser President/CEO of Community Planning and Advocacy Council (CPAC) and Camden County Freeholder Scot N. McCray.
Lewis closed the program with a pitch for the need for advocacy for housing first. He said that everyone needs a place to call home and that we can and must do this. He called on everyone to work with the NHPC to update the ten-year plan to end homelessness and end homelessness.
This site visit is in conjunction with the National Alliance to End Homelessness' national site visit campaign aimed at raising the awareness around the need to increase funding for the McKinney-Vento program.