USICH Report to Congress on Homeless Veterans
Assesses HUD-VASH Program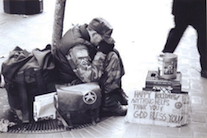 In its recent report to the Senate Committee on Appropriations, the United States Interagency Council on Homelessness (USICH) credits the recent 17% reduction in homelessness among Veterans since 2009 to increased collaboration between HUD and VA at the federal and local level and federal investment in innovative programs and practices for Veterans experiencing or at-risk of homelessness.
One of the most effective programs for Veterans is the HUD-VASH program, which has provided over 40,000 Veterans with permanent supportive housing through rental vouchers provided by HUD and case management provided through VA.
The report assesses the progress of the HUD-VASH program against its performance measures concerning voucher utilization, targeting, and lease-up times. It highlights innovative practices government and community stakeholders are utilizing to improve the performance of this program, including:
The adoption of the Housing First model for Veterans experiencing chronic homelessness;
The HUDStat process used by HUD and VA to monitor the program's progress;
Rapid Results Boot Camps; and
Collaborations with nonprofit homeless service providers.
It highlights innovative practices that government and community stakeholders are utilizing to improve the performance of this program.
The report also details the programs and improvements needed to address Veteran homelessness in rural areas and on Native American reservations. The report calls for improved coordination of resources among federal agencies serving Veterans in rural areas and reservations and increased engagement with tribal government.
USICH looks forward to working with Congress and its partners across the country in 2013 and beyond as we implement Opening Doors. With strategic investment in programs and practices that are effective, there is tremendous opportunity to harness momentum from our progress on ending Veterans homelessness to achieve our goal.
Click here for the report.