Fiscal Plans Devastating Effect on Government
What is Future of Long-Term Fiscal Policy?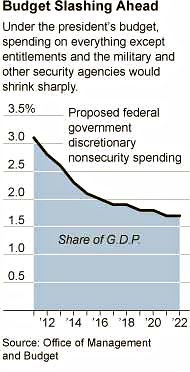 As we go full throttle toward the fiscal cliff like Thelma and Louise, a December 18, 2012, New York Times article, "Goodbye Government, Under Either Fiscal Plan" explored how both the President's and House Republican's plans would cut critical government programs, including federally funded housing programs, without specifics about what allowances may be made.
The article states:
The frenzied partisan horse-trading has glossed over what is arguably the central issue of any debate over long-term fiscal policy: the kind of role we expect the government to play in the nation's future. Not only have our political leaders failed to lay out a vision of what they hope the budget will achieve, they are pulling the wool over Americans' eyes about the kind of budget we are about to get.

The truth is that both the president and House Republicans have agreed to shrink a critical part of the government to its smallest in at least half a century. This is regardless of which trillion-dollar proposal gains the upper hand.

Consider the president's budget, which by law must include projections of taxing and spending over the next decade. Loath to raise taxes on the middle class yet unwilling to cut deeply into the budgets for Social Security or Medicare, the president and his advisers proposed cutting the discretionary part of the budget devoted to everything except defense and other security agencies to 1.7 percent of economic output by 2022, down from 3.1 percent last year.
And economic experts are skeptical of even the President's plan.
"This is no way to run a $3.7 trillion enterprise," said a Columbia University economist, Jeffrey Sachs, referring to the size of the federal government. "It is President Obama's responsibility to put forward a plan and give us a comprehensive view of what is the strategy."
Click here to read the full story.