Senate Votes to Change Filibuster Rules
Lautenberg and Menendez Vote Yes
Delayed Sandy Aid Package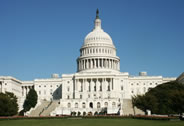 On January 24, 2013, the Senate voted to change its filibuster rules in an attempt to allow legislation to move through the chamber more quickly.
Senators Frank Lautenberg and Robert Menendez voted in favor of the changes.
The inability of the Senate to reach unanimous consent on legislation resulted in many delays in recent years. In particular, it caused a delay in the consideration of the House-passed Super Storm Sandy supplemental appropriations bill.
While the filibuster changes were not as substantial as some Senators hoped, they passed easily with bipartisan support.
The package does not include the reinstatement of the "talking filibuster," which was advocated by some Senators and advocacy groups, and would have required any filibustering Senator to actually remain on the Senate floor and debate the bill in order to delay a vote.