Homelessness 101: A Solvable Crisis
St. Peter's University Offers Feb 14 Program in Jersey City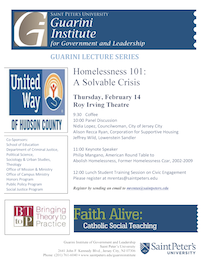 On Thursday, February 14, 2013, join the Guarini Institute, Saint Peter's University, Jersey City for "Homelessness 101: A Solvable Crisis." The program begins at 9:30 a.m. and concludes with lunch.
The program will include a panel discussion including:
• Nidia Lopez, Councilwoman, City of Jersey City
• Alison Recca-Ryan, Corporation for Supportive Housing
• Jeff Wild, Lowenstein Sandler
Philip Mangano, American Round Table to Abolish Homelessness and Former Homelessness Czar (2002-2009) will follow with a keynote speech.
This program is part of the Guarini Lecture Series and sponsored by Saint Peters University Guarini Institute for Government and Leadership and the United Way of Hudson County.
Register by sending an email.