Let Lautenberg Know Sequestration Will Devastate Housing
Contact Him Today to Protect NJ Low Income Families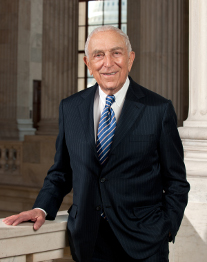 U.S. Senator Frank Lautenberg serves on the Senate Committee on Appropriations, which will hold an important hearing this Thursday, February 14 on sequestration and its impact.
Please contact Senator Lautenberg today and urge him to use the hearing as an opportunity to show how these cuts would be devastating to affordable housing programs for low-income individuals and families in your state.
You can reach out to Senator Lautenberg by contacting his housing staffer Michael Derzko by email or phone, 202-224-3224.
Here is some data from the Center for Budget and Policy Priorities (CBPP) of how sequestration would impact federal housing programs in New Jersey:
| | | |
| --- | --- | --- |
| Program | 2012 NJ Funding | 2013 Sequestration |
| CDBG Formula Grants | $77,708,633 | -$3,963,140 |
| HOME Program | $25,676,951 | -$1,309,525 |
| Housing Choice Vouchers | 64,014 | -3,324 |
| Public Housing | $210,842,860 | -$10,752,986 |
| Homeless Assistance | $46,478,310 | -$2,370,394 |
At the hearing, HUD Secretary Shaun Donovan will testify with other agency heads
Please take a few minutes and urge your Senator Lautenberg to ask Secretary Donovan three important questions:
How will veterans and others who no longer have access to homeless assistance in my state fare under sequestration?
How many families could lose their voucher rental assistance in my state if sequestration is implemented? What will become of them?
How will sequestration hamper my local housing agency's ability to maintain its units? How will this impact residents and the local housing authority?
When reaching out to Senator Lutenberg, be sure to include state and local data. Of course, these are sample questions that you can edit.
The more personal your question, the more likely Senator Lautenberg will ask it of Secretary Donovan.
Click here to view sample questions here.