Senate Passes Bill to Extend Debt Limit
Mandates Without Budget, Chambers Could Face No Pay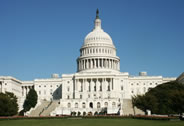 On January 31, 2013, the Senate passed H.R. 325, the "No Budget, No Pay Act of 2013," a short-term debt limit bill proposed by House Republicans.
In addition to extending the debt limit through May 18, 2013 for fiscal year (FY) 2014, the bill mandates that if either chamber does not pass a budget by April 15, 2013 members of that chamber will have their pay withheld.
New Jersey's House delegation split along part lines with all Democrats voting no and all Republicans voting yes. Senator Lautenberg and Senator Menendez voted in favor.
President Obama signed the legislation on February 5, 2013.
The upcoming deadlines are:
March 1 – Around $85 billion in spending cuts are scheduled to begin through the end of September unless Congress intervenes (the so-called sequester, which would continue for eight additional years).
March (sometime) – the White House is likely to propose its budget plan for the fiscal year that begins October 1. Congress won't enact it, but it will frame much of the political debate going forward.
March 27 – government funding for a number of federal programs will expire. If Congress doesn't vote to extend funding, there could be a partial government shutdown.
April 15 – this is the deadline for the House and Senate to pass budget resolutions or lawmakers won't get paid.